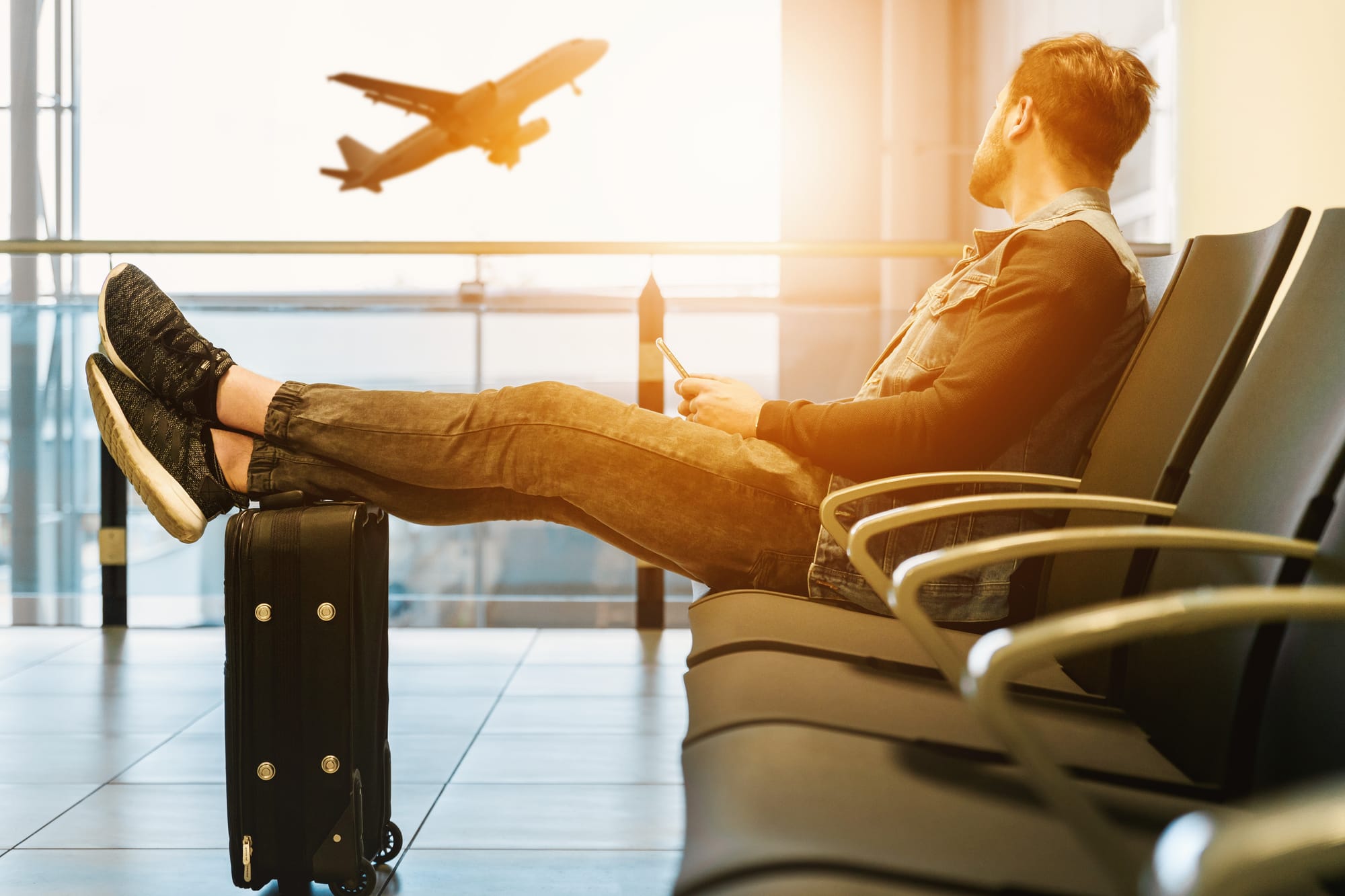 Millions of people decide to travel every year for business and for pleasure. Only a small percentage of those people decide to purchase travel insurance, partially because most people aren't aware of the option or don't know how travel insurance works. There are several good reasons to look into insurance, particularly when taking a long business trip, an international vacation or any other potentially high-cost trip.
Trip Cancellation
The basic purpose of a standard travel insurance policy (with trip cancellation coverage) is to reimburse travelers for their insured pre-paid and non-refundable trip costs if they have to cancel their trip due to a covered reason. The covered reasons vary by provider and plan, but depending on the plan, these might include:
Accidental injury, sickness, or death of you, a traveling companion or a family member
Weather events that cause cancellations in travel plans or a cessation of service
Mandatory evacuation ordered by local authorities at your destination due to hurricane or other natural disaster
Strike that causes complete cessation of travel services of your carrier
Bankruptcy and/or default of your travel supplier
Terrorist attacks that occur in your destination city
You or your traveling companion are terminated, or laid off from employment
This type of travel insurance has become quite popular over the years with leisure travelers given the high cost of vacations. Businesses often take out travel insurance policies on their employees, as they're aware of the potentially high cost of a trip cancellation as compared to the relatively low cost of trip cancellation insurance coverage. This type of coverage can also allow for better peace of mind. Most insurance companies that offer trip cancellation coverage are very easy to work with and will answer cancellation claims within a few days, so out-of-pocket expenses are minimal.
Emergency Medical Coverage
Many travel insurance plans also have medical coverage for emergency medical expenses incurred while traveling. This is particularly important for international travelers, as standard health insurance plans sometimes won't cover medical bills from another country. A reliable travel insurance plan with medical coverage will take care of medical care and related costs, including the sometimes expensive cost of transporting a patient back home if it includes an emergency medical evacuation benefit. These costs can easily climb into the tens or even hundreds of thousands of dollars, so protective insurance coverage is absolutely essential. Frequent international travelers, students and other travelers who have a fairly high chance of contracting an illness or getting injured in a foreign country should certainly carry travel insurance with emergency medical expense coverage. It's also important to note that travel health insurance covers domestic as well as international hospitalization and treatment costs, and for people with managed care health insurance, it can be helpful protection during domestic trips as well.
Affordability
Travel insurance is inexpensive, as the risks of a single trip or vacation are fairly low. When travelers compare rates online before purchasing a travel insurance policy, costs are kept even lower. This is one of the best reasons to buy trip cancellation insurance, travel health insurance and other types of trip insurance coverage. The costs of each policy are extremely low when compared to the potential risks of a canceled trip, an illness or other unexpected event. Buying travel insurance allows for smart risk management and peace of mind on any type of trip at a fairly low price
Click the Link and choose the travel insurance that best fit your needs : https://www.travelinsurance.com/?utm_source=pap&a_aid=5c40e99e7b002
Tranquilidad para disfrutar, la importancia del seguro de viaje
En Proveedores, Sector turístico, Travel Advisors

blog
Durante unas vacaciones o un viaje de negocios pueden surgir imprevistos muy diversos que se traduzcan en un coste adicional, normalmente muy elevado, y a la vez trámites y gestiones que pueden terminar en una pesadilla.
Por este motivo es muy recomendable contratar un seguro de viaje, porqué nada se puede predecir y nunca se sabe qué puede pasar.
¿Por qué un seguro de viaje?
La razón principal es para cuidarte a ti y a tu familia. Tener asistencia sanitaria en cualquier parte del mundo es muy importante en caso de enfermedad o accidente. Además los gastos médicos, de hospitalización o repatriación pueden llegar a ser enormes en según qué país.
Otro imprevisto habitual es la pérdida del equipaje o el retraso en la entrega, puedes tener esta problemática cubierta y también los posibles costes que pueda provocar. Pero las incidencias que uno puede sufrir de viaje son más, la pérdida de documentación, incidencias con el vuelo… El seguro permite viajar con tranquilidad ante cualquier situación.
También te puede surgir un imprevisto antes del viaje y tener que cancelarlo. Un seguro de anulación permite recuperar todos los gastos en este caso y también si surge durante el viaje y tienes que regresar antes de lo previsto.
En caso de viaje de negocios, el seguro cubre también la asistencia sanitaria, la protección en destinos de riesgo, el material profesional que puedas llevar contigo y evitar los costes que todo esto conllevan.
Incidencias más comunes
A través de un estudio realizado por ERV, podemos saber los siniestros más comunes de los viajeros en el 2017 divididos en tres grandes bloques:
Asistencia al Viajero (44%). Los casos más frecuentes son gastos médicos y quirúrgicos, seguidos de repatriación y transporte sanitario, el desplazamiento al centro sanitario y, finalmente, el regreso anticipado por diversos motivos.
Anulación del viaje y actividades programadas (36%). Los casos más frecuentes son enfermedad o accidente, cambios en el trabajo (cambios de días de vacaciones, nuevo trabajo…) y enfermedad o accidente un familiar directo.
Incidencias relacionadas con el equipaje (11%). El caso más frecuente son las incidencias en los medios de transporte y todo lo relativo al equipaje, seguido de robo o pérdida de equipaje y documentación.

En caso de siniestro
Lo principal es contratar el seguro antes del viaje e informarte de su cobertura. Durante el viaje es necesario:
Llevar siempre el teléfono y la póliza.
En caso de robo, denunciarlo a la policía o autoridades.
En caso de pérdida, daño o demora en la entrega del equipaje, conservar la certificación original de la compañía transportista y el original de la tarjeta de embarque y ticket de facturación.
Destinos
Según el estudio de ERV, hay destinos donde se registran más siniestros que en otros. En caso de vacaciones, el 42% ocurren en países fuera de Europa y el 58% en territorio europeo. En caso de viaje de negocios, algunos de los países con más siniestros son Estados Unidos, Israel, México, Sudáfrica, Italia y Portugal entre otros.
Además, el Ministerio de Asuntos Exteriores y de Cooperación establece una clasificación de países donde viajar supone algún tipo de riesgo.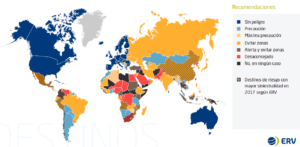 ¿Cómo elegir un seguro?
El tipo de seguro que debas contratar dependerá del tipo de viaje que realices. Un seguro que se adapte a tus necesidades para viajar con tranquilidad. Para elegir, puedes tener en cuenta aspectos como: la frecuencia de los viajes, el destino, los días, semanas o meses que dure el viaje, el número de personas, las actividades que se realizarán… Y también el tipo de cobertura deseado: esencial o completa.
SI NECESITAS SEGURO DE VIAJE CONSULTANOS, ESTAMOS PARA AYUDARTE.