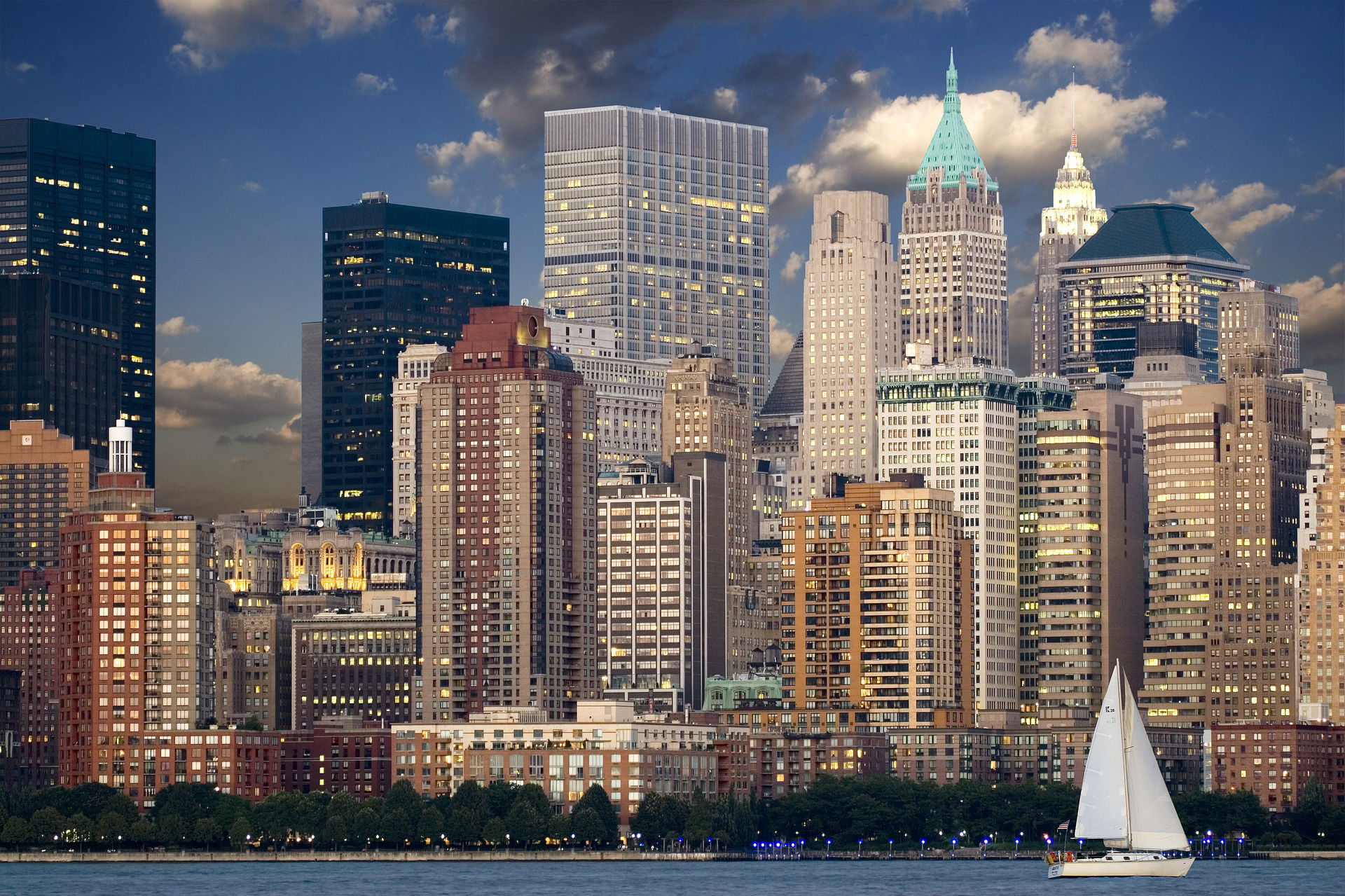 NEW YORK City is by far the largest city in the United States, with an estimated 2016 population of 8.55 million. Since the first US census in 1790, it has held that position, and continues to have more than double the population of Los Angeles, the second largest city. Chicago is the third largest city in the US, but has just 1/3 the number of people as New York City. New York City continues to have major influence and impact on the world's economy, entertainment, media, education, art, technology, and scientific research. The city features five separate boroughs: Staten Island, The Bronx, Brooklyn, Queens, and Manhattan. As many as 800 languages are spoken throughout New York City, making it the most diverse city in the world when it comes to linguistic multiplicity.
Best Things To Do in New York City
Even if you're not mesmerized by the city's soaring skyscrapers and monuments, you'll be blown away by its flourishing arts, food, fashion and nightlife scenes. You can spend your morning browsing Fifth Avenue's designer racks and your afternoon catching stunning city views from the Top of the Rock Observation Deck. Or, if you're an art lover, you can admire the striking works on display at the Met and the Guggenheim before feasting on ethnic fare in Chinatown or Little Italy. If you still have some energy (and cash) left over, don't miss the chance to snag tickets to an award-winning Broadway show or hop over to one of the low-key rooftop bars and jazz clubs illuminating the Meatpacking District after dark.
#1 in New York City
Local Pick: Must-see ?This part-park, part-museum, part-concert hall swallows central Manhattan, and many of the city's most notable attractions are situated next to it or within its limits (the Guggenheim, the Metropolitan Museum of Art and the American Museum of Natural History, to name a few). But travelers insist that you shouldn't just pass through Central Park on your way to another place. This 843-acre green space is a favorite of New Yorkers and tourists; you can come here to exercise, dine, go to the zoo and more.
... more
Find Tours & Tickets

#2 in New York City

Local Pick:

Must-see

?The National September 11 Memorial & Museum serves as the primary tribute to the nearly 3,000 victims of the 2001 terrorist attacks, as well as the six lost in the 1993 bombing. The Memorial's twin reflecting pools and manmade waterfalls rest as eerie footprints where the World Trade Center's Twin Towers once stood. The 1-acre pools are enclosed in bronze panels on which the names of every victim are inscribed. The museum spans across 110,000 square feet and relays the narrative of the attacks through a series of multimedia displays, real-time recordings, authentic artifacts and an interactive table....

more

Monuments and Memorials Type1 to 2 hours Time to Spend

#3 in New York City

Local Pick:

Must-see

?Some out-of-towners spend their entire New York trip at one show or another on the Broadway circuit. And if you like plays and musicals, this is where you should be: "The Great White Way" represents the heart and soul of American theater. Considering that nearby

Times Square

is a dizzying maze of sights and sounds with no real starting point, some visitors suggest you can see all you need to of that neighborhood just by trundling back and forth between shows.

4 in New York City

Local Pick: Must-see ?No museum in the United States is as celebrated as the Metropolitan Museum of Art. Spilling over with masterpieces from all over the world, including notable collections from Ancient Egypt and classical antiquity, "the Met" is an art experience unlike any other, and like much in New York, it's impossible to see all the museum has to offer in one day (or even two days, for that matter). If you've never been there, then you should definitely visit its permanent collections (the first floor's Greek and Roman art, Egyptian art and the second floor's Islamic art exhibits are especially popular with travelers). If you've already visited the Met a time or two, then plan your next trip around the semiannual exhibits by the Costume Institute, or head to The Met Cloisters, an offshoot museum that's dedicated to medieval Europe's art and architecture located in Fort Tyron Park.


#5 in New York City

Local Pick:

Must-see

?Visitors love the American Museum of Natural History off Central Park West. Whether you're exploring the interactive exhibits on the land, the sea or outer space; user reviews take on a common theme. This museum is incredible. Even the cafeteria and gift shop are worth your notice....

more

Museums Type2 hours to Half Day Time to Spend

6 in New York City

Local Pick:

Must-see

?New York City Tourist 101 dictates that you must swing by this landmark structure in midtown Manhattan. And despite the hefty admission fees, the crowds and the long lines, recent visitors insist that you won't be sorry. In fact, taking a trip to the top of the Empire State Building is either the perfect way to begin or end your Big Apple excursion – on a clear day you'll be able to the see the city's major highlights some 1,050 feet beneath you. Pick up the multimedia tour, available in eight languages, which guides visitors through the icon's exhibits and views with additional background on the building's history. The tour is included in the admission price and given to guests to enhance their visit....

more

Sightseeing Type2 hours to Half Day Time to Spend

7 in New York City

Local Pick:

Must-see

?Stroll through the courtyard of the Metropolitan Opera House even if you're not going inside for a performance. Every element of this opulent building – from the limestone architecture, to the lobby's glittering chandelier, to the acoustics in the concert hall – is gorgeous. Travelers call this opera house a feast for the eyes and ears. Tickets are notoriously expensive (as much as several hundred dollars for the best seats), but the sticker shock evaporates quickly if you're into performing arts. You can try to score a same-day ticket at a discounted rate, plus there are discounts for senior citizens....

more

Entertainment and Nightlife Type2 hours to Half Day Time to Spend

#8 in New York City

Local Pick:

Must-see

?This brightly shining beacon draws visitors year-round. So let's discuss your visiting options. The most popular method involves waiting at least 90 minutes for the ferry to cart you from Battery Park (in Lower Manhattan) to the statue located on Liberty Island, then making a stop at

Ellis Island

before returning to the mainland. The first boat of the day leaves at 9 a.m., the last boat leaves around 3:30 p.m., but almost all travelers complain of the long, disorganized lines and security screenings on top of the $18.50 ferry fee for such an abbreviated trip....

more

Spen

9 in New York City

Local Pick: Must-see ?At this beautiful train station, you can eat some lunch or shop till you drop, but recent travelers most enjoyed just taking in the scenery. Before you enter, be sure to snap a few shots of the ornate beaux-arts neoclassical architecture outside. Inside the celebrated main concourse, you're treated to glimmering marble floors, gold and nickel-plated chandeliers and a sky-themed ceiling. Food options range from the upscale (Michael Jordan's The Steak House N.Y.C. or The Campbell Apartment) to the legendary (the Oyster Bar or the gourmet kiosks at the Grand Central Market) to the fast and easy (Starbucks). As mentioned, there are also plenty of shopping options, though most travelers suggest you leave most of Grand Central's pricey merchandise in the store. If you want a train-themed souvenir, visit The New York Transit Museum Store in the shuttle passage.

... more

La Ciudad de Nueva York es la "Gran Manzana"
La Ciudad de Nueva York está ubicada en la costa esta de los Estados Unidos, unas 1000 millas al norte de Florida y 200 millas al sur de Boston. Está en la boca del Río Hudson y se encuentra dividida en cinco distritos o barrios. La Isla Long está al este de la Ciudad de Nueva York y el estado de Nueva Jersey está justo al otro lado del Río Hudson, al oeste. La "Gran Manzana", como se le la llama a menudo, es la ciudad más grande de Estados Unidos, con más de 7 millones de residentes. Está llena de una variada mezcla de habitantes, incluyendo inmigrantes de muchos países. Algunos de sus barrios, como Chinatown, la Pequeña Italia y el Harlem español, reflejan la rica herencia cultural de las tierras nativas de sus residentes.
El barrio de Manhattan, el centro comercial y de negocios de la Ciudad de Nueva York, está situado en una gran isla en el medio del Río Hudson. Justo al sur del mismo, cruzando el puerto principal, está el barrio de la Isla Staten, una gran comunidad residencial. Cruzando el brazo este del Hudson, están los barrios de Brooklyn y Queens, en el extremo oeste de la Isla Long. El barrio Bronx está en terreno continental, en el norte. Nueva Jersey está hacia el oeste, al otro lado del Hudson.
Subir a la azotea de un rascacielos, ver la Estatua de la Libertad (esto se puede hacer de forma gratuita), visitar un musical de Broadway, ir al Times Square en la noche, ver el panorama de los rascacielos en Nueva York. Más información: observa la lista de visitas obligadas en Nueva York.
Visita los lugares de interés y las atracciones de Nueva York. Lo que no puedes perderte en Nueva York: el puente de Brooklyn, la Quinta Avenida, Central Park, Broadway. Crea tu propio itinerario para Nueva York. Más información.
Los museos de Nueva York son unos de los más interesantes del mundo. La entrada a muchos museos se basa en un precio recomendado ("admisión sugerida"). Esto significa que por el boleto para el museo pagas hasta tan sólo $1. Los museos famosos como el Museo Metropolitano de Arte y el Museo de Historia Natural son de admisión sugerida. Los museos tienen exposiciones permanentes y temporales. Los particularmente interesantes son el Museo de Arte Moderno, MOMA, y el Museo Metropolitano de Arte (Met). Más información sobre los museos de Nueva York.
Los rascacielos más famosos de Nueva York que puedes visitar son el Edificio Empire State, el Rockefeller Center (la plataforma de observación se llama "Top of the Rock") y el nuevo observatorio en el World Trade Center, One World Observatory. También puedes disfrutar de las vistas de Nueva York desde los bares y restaurantes en azoteas. Más información.
Comienza a conocer Nueva York con un recorrido turístico. No sólo aprenderás datos interesantes sobre la ciudad, también te sentirás confiado de pasear por Nueva York después del recorrido. Será fácil encontrar y explorar esos lugares que viste durante el recorrido donde no fue posible detenerte, o los lugares donde te gustaría pasar más tiempo. Hay muchos recorridos turísticos disponibles. Los recorridos turísticos por la ciudad de Nueva York en español se realizan todos los días. Consulta las opciones y reserva en línea.
Puede ver toda la ciudad y tomar unas fotos sorprendentes del día y de noche. Lea la descripción detallada y compre los boletos en línea en nuestra página web.
El paseo en barco le permite ver el horizonte de edificios de la ciudad de Nueva York. Eche un vistazo a las rutas, la duración y los precios en nuestra tienda en línea.
Cuando haga buen tiempo, le recomendamos dar un paseo en helicóptero por Manhattan.
También recomendamos: Blog New York Online: "Cómo Ahorrar en Un Viaje a Nueva York."
¿Lo sabía?
¿Cómo ver la Estatua de la Libertad gratis?
¿Cómo elegir un musical de Broadway?
¿Cómo funciona el transporte público?